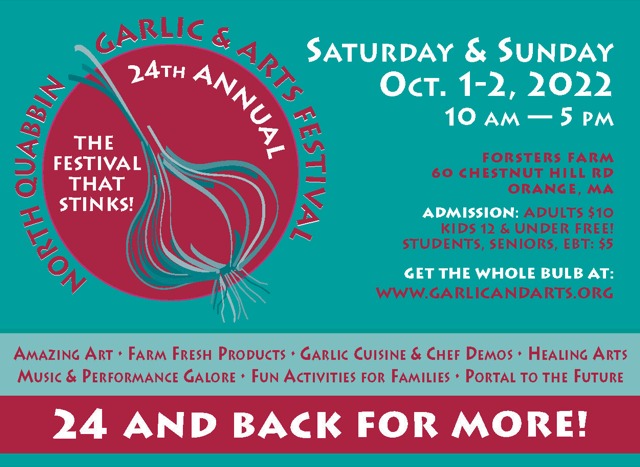 The family friendly "festival that stinks" is renowned for exceptional art, local farm products, fabulous food, endless entertainment, and inspiration for a hopeful future. Held on a historic farm amid fall foliage, the event attracts and unites many thousands locally and across New England.
Great music, entertainment, and spoken word emanate from three stages and the rolling fields. The line-up of performers is testimony to the culturally diverse and abundant talents of the region. Over 80 bountiful booths feature regional artists, farmers, community organizations, and healing arts; everyone can strengthen the economy by purchasing locally crafted and grown! Travel the garlic globe in the chef demo tent, and fill your belly with farm fresh and savory cuisine in four food courts.
Over fifty engaging workshops and demos, activities and performances are scheduled throughout the weekend. Garlic games abound on the main field, including the famous raw garlic-eating contest. Your kids will love the free art-making tent! Orange is the New Green: trash free (less than three bags for 8,000 people!) with everything else recycled or transformed into fertile compost to make gardens not garbage. Bring your own bottle for the free drinking water provided, or buy a souvenir refillable one along with an artist-designed festival tee shirt. The 'Portal to the Future' at the north end of the festival site is the place to visit for all things renewable energy, with inspiring local living workshops all weekend. New! Electric Vehicles (EV) from cars to tractors to bikes are scheduled through the weekend. Get excited, get ready!
There is something for everyone at this family-friendly fall event, held on a beautiful historic farm amidst autumn foliage. To get a feeling for the flavor, and aroma, of the festival, check out the photos from the past. A couple of local photographers have shared their photographs from 2019 with us. Take a look at those by Norm Eggert and Christine Regan Davi. In 2020 we held a Virtual Festival which you can see on our YouTube channel. Read this if you are wondering Who Puts the Festival On, Where the Money Goes, and Whose Land Hosts It.