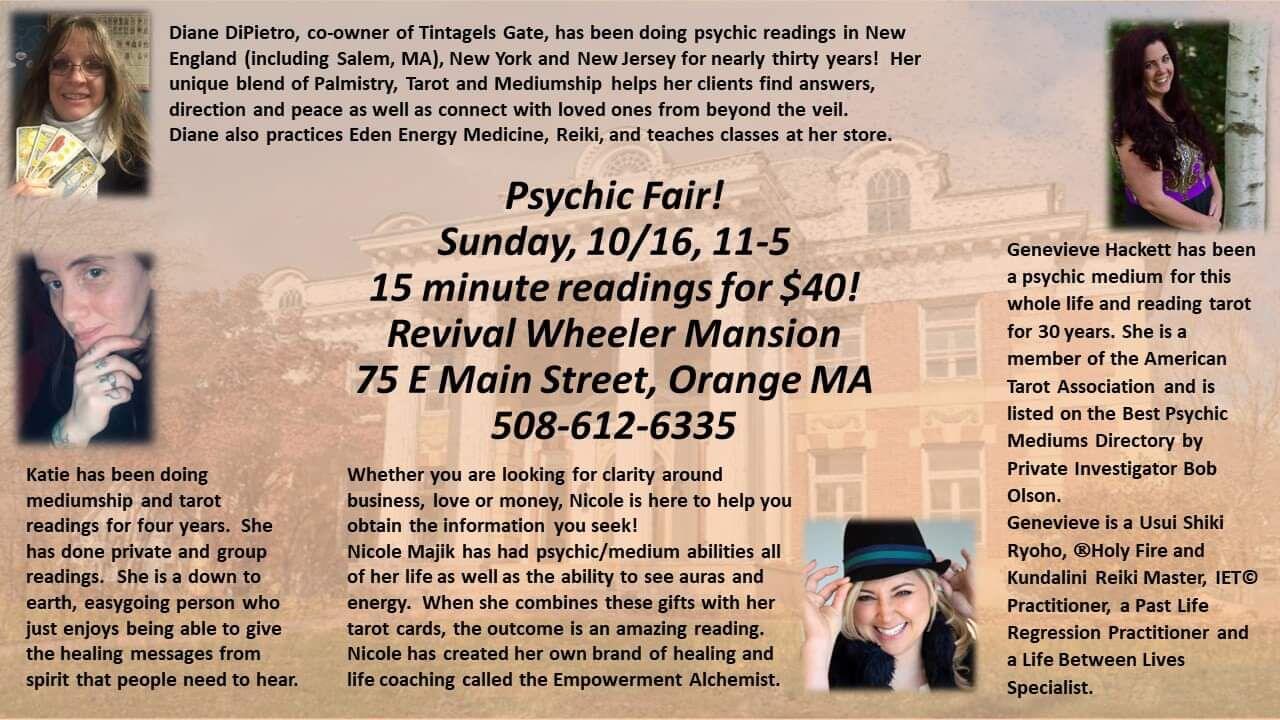 Psychic Fair
Sunday October 16, 11am to 5pm
15 minute readings for $40
Genevieve Hackett has been a psychic medium for this whole life and reading tarot for 30 years. She is a member of the American Tarot Association and is listed on the Best Psychic Mediums Directory by Private Investigator Bob Olson. Genevieve is a Usui Shiki Ryoho, ®Holy Fire and Kundalini Reiki Master, IET© Practitioner, a Past Life Regression Practitioner and a Life Between Lives Specialist.
Diane DiPietro, co-owner of Tintagels Gate, has been doing psychic readings in New England (including Salem, MA), New York and New Jersey for nearly thirty years! Her unique blend of Palmistry, Tarot and Mediumship helps her clients find answers, direction and peace as well as connect with loved ones from beyond the veil. Diane also practices Eden Energy Medicine, Reiki, and teaches classes at her store.
Katie has been doing mediumship and tarot readings for four years. She has done private and group readings. She is a down to earth, easygoing person who just enjoys being able to give the healing messages from spirit that people need to hear.
Whether you are looking for clarity around business, love or money, Nicole is here to help you obtain the information you seek! Nicole Majik has had psychic/medium abilities all of her life as well as the ability to see auras and energy. When she combines these gifts with her tarot cards, the outcome is an amazing reading. Nicole has created her own brand of healing and life coaching called the Empowerment Alchemist.